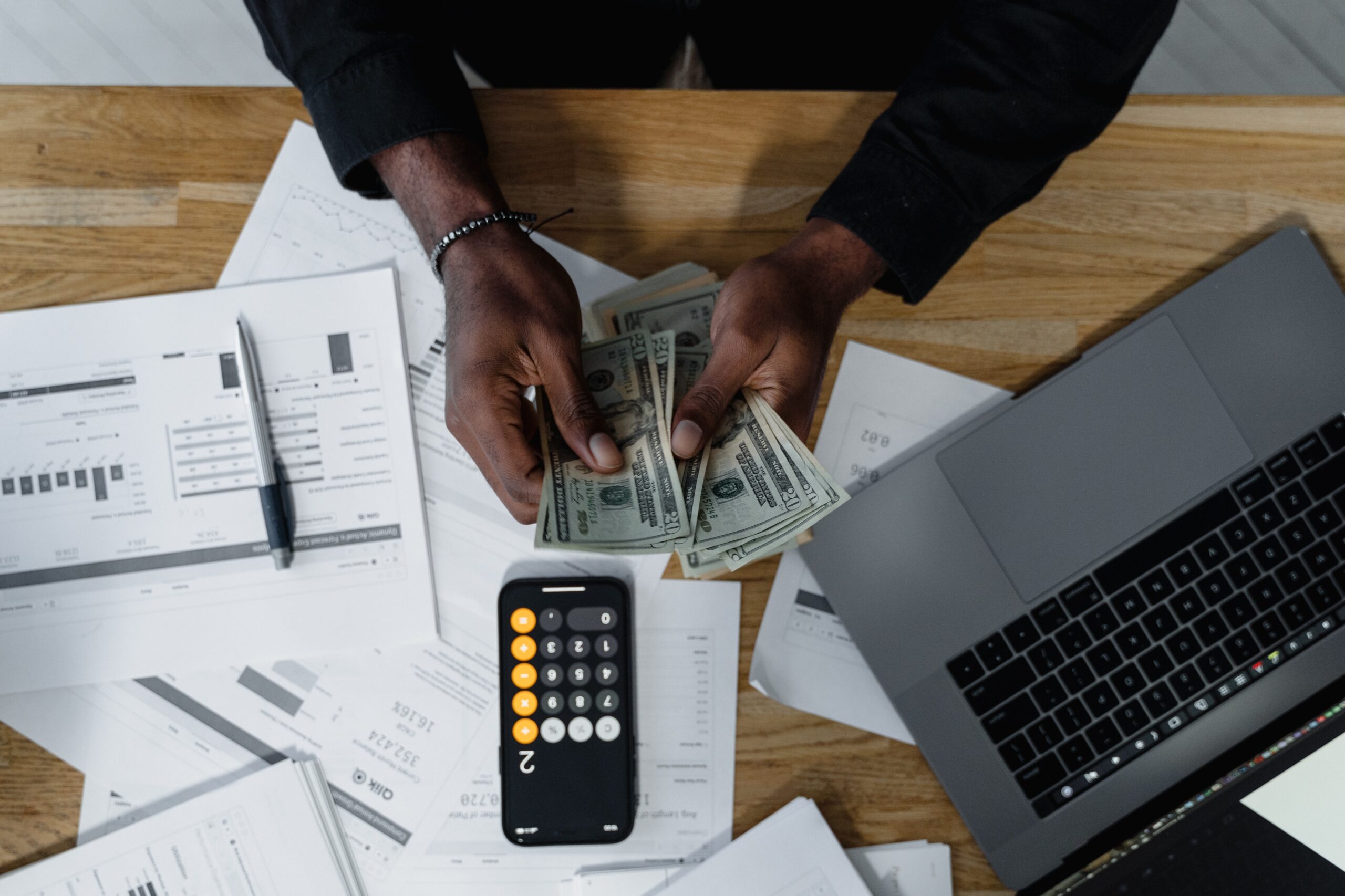 In 2017/18
If you've ever wondered how the other side lives, new statistics have provided insight into how much money you need to be rich in Australia.
The Australian Bureau of Statistics released its Survey of Income and Housing 2017/18, giving people a snapshot of the assets and debts of Australians.
The ABS has separated Australia's population into five segments, called quintiles, each representing 20 percent of the people.
It found average household wealth has grown to about $1.02 million, from nearly $749,000 in 2005/06.
Household wealth is calculated by adding up all the assets a household owns and then subtracting the value of debts such as home loans.
The survey found the top 20 percent had an average net worth of $3.2 million.
Rising house prices have been the most significant factor pushing up household wealth, but only 22 percent of households own a property other than the home in which they lived.
The average amount owing on a home loan was $102,600, the average student loan debt was $5000 and the average credit card debt was $3000.
Superannuation is also becoming a key factor separating the rich from the poor. The wealthiest households now hold on average $646,000 in their super accounts compared with those in the next quintile who only had about $216,000.
The most affluent Aussies also had a lower proportion of their money tied up in the property.
WEALTHIEST HOUSEHOLDS — TOP 20 PERCENT
These households were the most likely to have both partners working and not having kids. In about 53 percent of cases, two people in the household were employed.
They were also the most likely to have money invested in their own businesses, with almost 8 percent putting their money into this, a lot more than other quintiles that all had less than 2 percent invested.
Australia's wealthiest households had more money in shares and private trusts, and investment loans made up 6 percent of their debt, which is higher than for other groups.
These households held more than 60 percent of all household wealth.
WEALTHIER THAN AVERAGE — FOURTH QUINTILE
This group is more likely to be an older couple with more mature children.
However, almost a third of this group were also couples without kids.
The home they live in is their biggest asset, with 94.6 percent paying off or owning their own property. About 17 percent of their wealth also comes from their superannuation fund.
AVERAGE ASSETS — THIRD QUINTILE
This is your classic young couple with babies and young children.
This group has the most wealth tied up in their family home, with these mortgages making up 70.4 percent of their liabilities — the most out of any quintile.
About 88.9 percent of these households lived in a home they owned or were paying off.
The middle 20 percent of households held 11 percent of all household wealth, averaging about $564,400 per household.
LESS WEALTHY — SECOND QUINTILE
Less than half of this group own a home with or without a mortgage.
They are more likely to have wealth tied up in superannuation or as money in the bank.
The contents of their homes make up 11.7 percent of their household wealth.
Car loans are often the biggest debt they have apart from their mortgage.
LEAST WEALTHY — BOTTOM 20 PERCENT
This group features the biggest proportion of single-parent families (13.4 percent) compared with other quintiles.
They are also the most likely to be single-person households (36.7 percent) with about 40.5 percent of household income coming from government pensions and allowances.
Only 3.9 percent had an owner-occupied home and 2.3 percent had other property assets.
They had the highest amount of debt owed on student loans.
The bottom 20 percent controlled less than 1 percent of all household wealth, with an average wealth of about $35,200.
In 2022
Survey reveals the eye-watering amount of money Australians need to consider themselves rich
The whopping amount of money that an Australian needs to earn to feel rich has been revealed.
If you don't earn $336,516 per year, then your peers won't think you're well-off.
That's according to data that comparison website Finder compiled exclusively for news.com.au, released on Wednesday, after surveying more than 1000 people.
The findings shone a light on the different expectations of what it means to be successful depending on how old you are.
Generation Z – who are aged between 10 and 25 – listed the highest amount of money in order to be rich person.
For the youngest generation, $428,474 is needed to classify yourself as rich.
That's more than six times greater than the median personal income of $52,338, according to the Australian Bureau of Statistics.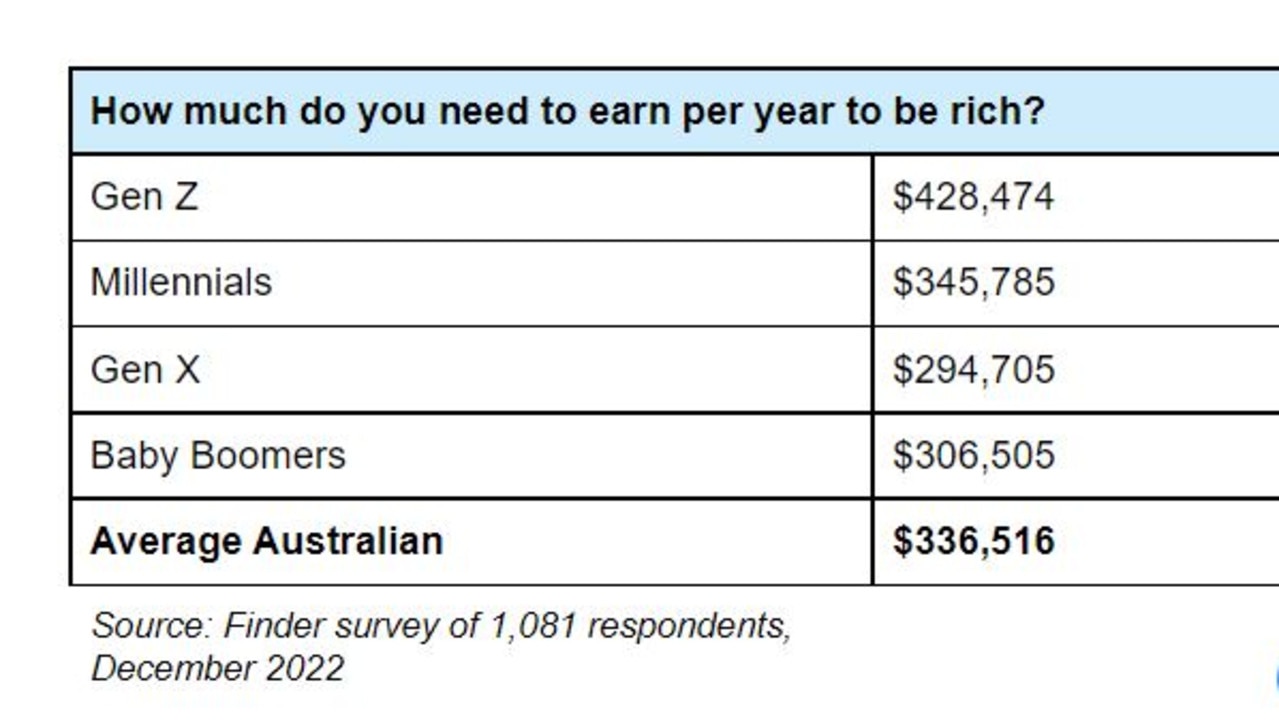 Meanwhile, Millennials had the second-highest figure for their wealth fantasy, at $345,785.
Gen X (aged in their 40s and 50s), brought down the average and had the lowest number overall, seeing $294,705 as necessary to enshrine one's status as rich.
Baby Boomers thought that $306,505 was enough to be pushed into the threshold of wealth.
The same survey found that the average Aussie saved $645 per month this year amid the cost of living crisis, and has $30,745 in direct savings.
Sarah Megginson, the money expert at Finder, said these were massive expectations considering Australia's average wage.
"While a small number of high-income earners can make average income figures seem impressive, the typical Australian is on a salary of just over $50k," she said.
"Keep in mind true wealth is not just about money. Feeling rich can also be having a sense of satisfaction and contentment in all aspects of your life."
She added, "Building wealth doesn't have to mean earning the most competitive income – the best thing you can do is develop great financial management skills."
In 2021, a study revealed how much Australians were making on average and perhaps unsurprisingly, workers over the age of 45 earned the most.
Workers aged between 45 and 54 brought in the highest salaries per year, at an average of $80,298, according to a study released by Instant Offices last year.
Australians aged between 35 and 44 came in at a close second, taking home $78,192 a year.
Teenagers, to no one's surprise, raked in the lowest wages, at just $19,952 annually. Aussies in their twenties made $58,3635 a year, on average.
source: news
Read More